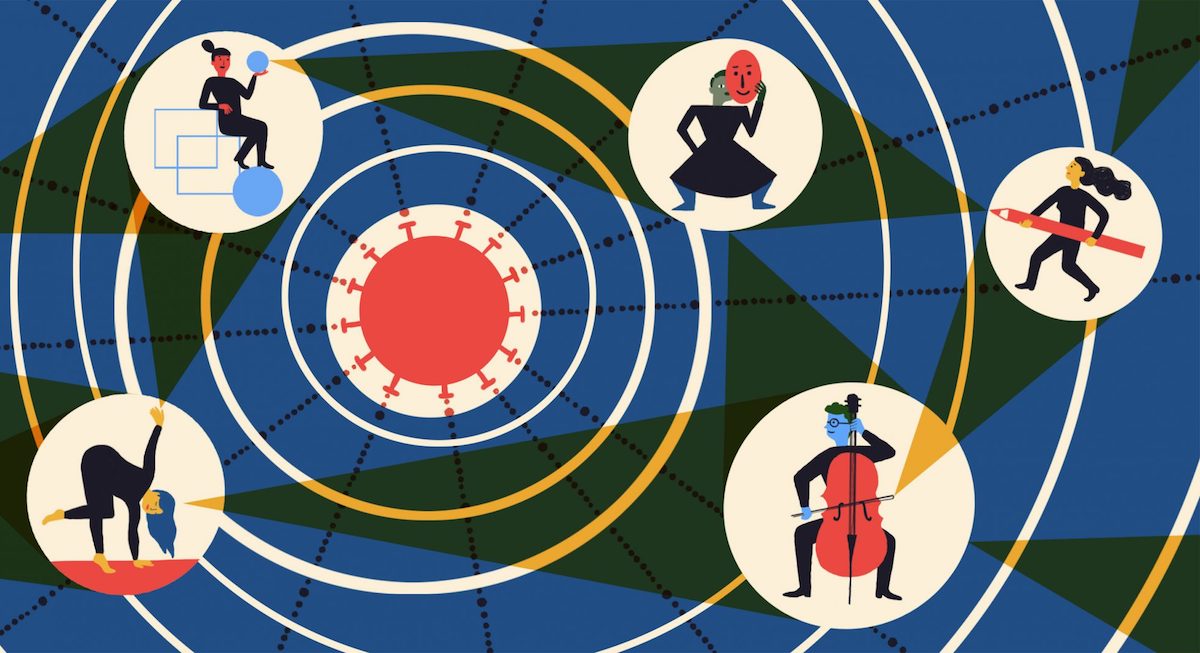 Poco dopo l'inizio della pandemia Covid-19, la Fondazione svizzera per la cultura Pro Helvetia ha lanciato il bando di concorso "Close Distance", con cui artisti e operatori culturali svizzeri sono stati incoraggiati a sviluppare nuovi formati artistici in grado di misurarsi in maniera innovativa con le restrizioni alla mobilità. Con tutte le sue conseguenze, tra cui divieti di assembramenti, chiusura delle frontiere, limitazioni ai viaggi e regole di distanziamento, la pandemia di coronavirus ha infatti minato alle radici il sistema di produzione e presentazione artistica abituale, anche perché la ricerca, la creazione, la presentazione e, soprattutto, la diffusione e il networking a livello internazionale continuano a sottostare a forti restrizioni. Nel corso di due mesi sono stati presentati 591 progetti – provenienti da tutte le regioni linguistiche e rappresentativi di tutte le discipline artistiche sostenute da Pro Helvetia – volti a creare nuove forme di cooperazione, di collaborazione internazionale e di presenza nello spazio pubblico. Circa il 10% delle candidature ha ricevuto un sostegno, compreso tra 5'300 e 35'000 CHF.
«Questo grande interesse dimostra che artisti e organizzazioni culturali hanno sfruttato la crisi del coronavirus come opportunità per testare nuove soluzioni creative e approcci artistici innovativi. I progetti sostenuti offrono strategie promettenti per il futuro e contribuiscono a ripensare la mobilità nel settore culturale», afferma Seraina Rohrer, responsabile del settore Innovazione & Società e membro del Comitato direttivo di Pro Helvetia. Se molti progetti sperimentano con le nuove tecnologie e i formati digitali, altri hanno creato anche nuove forme di presentazione analogiche. Riprendendo le parole di Seraina Rohrer, «ci aspettiamo che alcuni dei nuovi formati acquisiranno un'importanza ancora maggiore. Chi si occupa di promozione artistica e culturale deve chiedersi come questi tipi di progetti potranno essere sostenuti in futuro. La crisi non è ancora superata e molte di queste proposte troveranno spazio anche in avvenire».
Qui di seguito i 59 progetti sostenuti da Pro Helvetia:
Matthieu Corpataux, En attendant, écrivons; Nicolas Polli, HomeLife StillLife; Manuel Burgener, MOREsites; Association Insurbordinations, Projet_8; ClubCultureCH, Make Some Room: Electronic Relief in Switzerland; GUM!, Linearity's Modulation – A Collapsed Linearity Diagram»; Julia Seemann, Julia Seemann presents "Body Sensations Live From Earth"; art-werk, Breaking Patterns: a stroll through artistic strategies; Corinne Gisel, Futuress – an online magazine and educational initiative with a civic mission; Andrea Marioni, lumpenstation.art; Veronika Spierenburg, Mass Files; V XX ZWEETZ, Luminanza; Cie Gilles Jobin, Virtual Crossings; Nicole Bachmann, On Sight/Site; Zonoff, Institut International de Recherche sur la Radio et la Magie; Peter Fischer, Die Zukunft kuratieren; Associazione Crile, Audiodanses; Jeanne Tullen, Rodrigo Nava Ramirez, theworkout.ch; Association Stromsound, Colab-20/21; Pauline Treis, Support Small Labels; vorschlag:hammer, The Messenger; Blaublau, kapsel. space; Li Tavor, Martina Buzzi, Nicolas Buzzi, Pain; Théâtre Vidy-Lausanne, Nouvelles approches : un laboratoire d'expérimentation théâtrale en temps de crise; Ensemble baBel, Walking Venezia; Fondation NOF Nouvel Opéra Fribourg, Ersatzopera; Dumpf GmbH, Klangraum; Cocoon Dance Company, MovingSite "danse en partage"; Cie Nicole Seiler, Palimpsest special lockdown edition – réseau de 7 villes; Kunstmuseum Basel, Nebenräume; Cie Viande Hachee des Grisons, Les arbres vous parlent; AiEP Avventure in Elicottero Prodotti, Dance the Distance; Reto Friedmann, 60 Sekunden hören; Elisa Storelli, Artist Network Theory Platform; Lyrical Valley Association, Close Poetry: La poésie suisse à portée de main; Association Skree Wolf, Eco-Electro-Queer Garden Party; Lea Moro & Mona de Weerdt, Work It Out; Helvetiarockt – der Verein, Téléphoner!; Association Dreams Come True / Yan Duyvendak, VIRUS#VIRUS; Mathias Ziegler, The Virtual Concert Hall; On the Vibe – Show-me, Still A-live; Transitproductions Barbara Weber, #myreallife; Mirko Winkel, PLAY FORWARD; Francesca Ceccherini, OTO SOUND MUSEUM; Vera Sacchetti, We Are Foreign and We Are Everywhere; Musée des beaux-arts du Locle, MBAL_ORBIT_E; IIPM – International Institute of Political Murder, Büro für transnationalen Finanzausgleich; Association Goldtronics, CIRCULUS; Inlusio Interactive, Cora – Eine spielerische und poetische Reflexion über Mobilität mit offenem Ende; Belluard Bollwerk, Nous sommes des monstres qui vous parlent; Mathieu Rivier, Move; Haus der elektronischen Künste Basel, Net Encounters; Marion Regenscheit, Zusammen lesen; Nina Roehrs, FitArt; ROBINROBIN, Virtual Playground; Verein Shedhalle, Book your artist!; Playground, Playground Platform; Marc Berman, LOSE CONTROL.