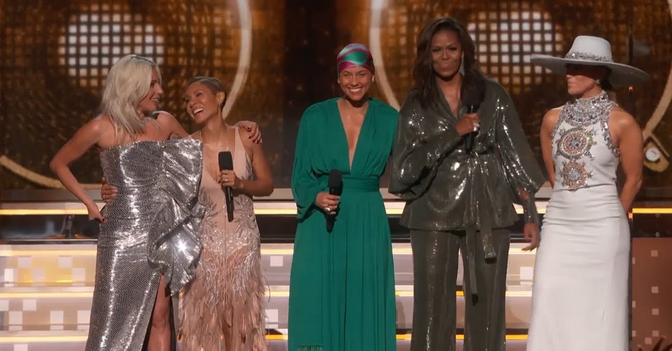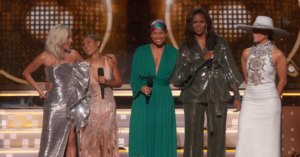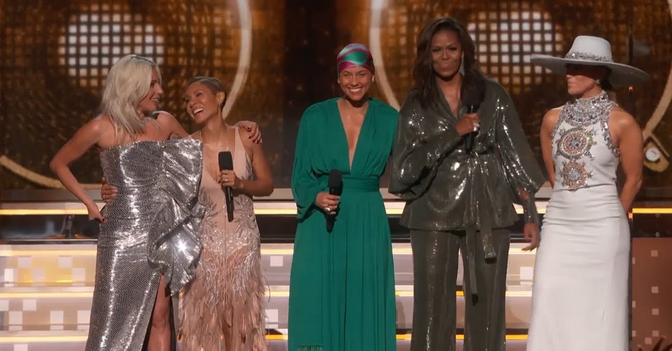 Sono le donne che dominano la scena ai Grammy Awards 2019, iniziando dalla conduttrice della serata Alicia Keys, che nonostante l'emozione, riesce a intrattenere e diffondere energia positiva durante l'intera cerimonia. Lo spettacolo si apre sulle note della canzone Havana cantata da Camila Cabello, Young Thug, J Balvin, Ricky Martin e Arturo Sandoval, dando così il via ai festeggiamenti con colori e suoni vibranti e conquistando una standing ovation in sala.
Si prosegue con Alicia Keys che sottolinea l'importanza della musica, ad affiancarla in questo messaggio ci sono altre quattro donne: Stefani Joanne Angelina Germanotta conosciuta come Lady Gaga, Jennifer Lopez, Jada Pinkett Smith e Michelle Obama; rappresentando insieme sul palco un background culturale multietnico, che porta in tempi come questi a riflettere sull'importanza dell'unione e dell'integrazione, anche attraverso la musica. Cinque voci femminili che raccontano quello che l'arte del suono ha fatto per loro, da Gaga che ricorda il rifiuto perché considerata una "weirdo", una stramba, e di come la musica le ha insegnato a non ascoltare quelle voci; a Jennifer Lopez che racconta come la musica le ricorda le proprie radici, da dove viene ma soprattutto dove può andare; a Jada Pinkett Smith (moglie di Will Smith) che ci rammenta come ogni voce merita di essere rispettata; per concludere con Michelle Obama che con grande eleganza descrive di come la musica l'abbia aiutata a raccontare la propria storia, e «ci permette di condividere e aprirci l'un con l'altro».
Insomma, un'introduzione alla serata potente, ben consapevole del proprio messaggio e dell'inclinazione di questa 61esima edizione. L'atmosfera intensa ed emozionale viene portata avanti da performance straordinarie che trascinano brano dopo brano l'interno pubblico in sala e da casa.
Onorate due grandi talenti femminili: Diana Ross e Dolly Parton, che con le loro esibizioni hanno confermato il loro carisma e il loro impatto nell'industria musicale. E uno speciale ed emozionante tributo dedicato a Aretha Franklin. Anche la cantante e conduttrice della serata Alicia Keys, regala momenti indimenticabili al pianoforte interpretando canzoni che hanno fatto storia e che l'hanno ispirata negli anni come cantautrice, un medley di successi da Killing me softly di Roberta Flack, a Unfogettable di Nat King Cole, per poi proseguire con Use Somebody di Kings Of Leon, In My Feelings di Drake, Boo'd Up di Ella Mai, Doo-Wop (That Thing) della cantante Lauryn Hill, per poi concludere con una hit di successo del 2009 appartenente proprio a Keys: Empire State of Mind. Dimostrando la sua grande abilità musicale e il merito dei suoi 15 Grammy vinti negli anni.
Di grande intensità anche le performance di Shawn Mendes, Kacey Musgraves, H.E.R., Dan + Shay, mentre l'esibizione live di Lady Gaga e parsa troppo in contrasto con il testo della canzone cantata Shallow, a tal punto da scatenare critiche e sentimenti di delusione da parte degli spettatori a casa che attraverso i social, in particolare Twitter, non ha esitato ad esprimere il proprio disappunto; così come anche il pubblico in sala è apparso abbastanza stranito e perplesso. Nonostante questo, l'artista porta a casa ben 3 Grammy Awards.
Difatti possiamo osare dire che a dominare la serata sono proprio Lady Gaga, Dua Lipa e Kacey Musgraves.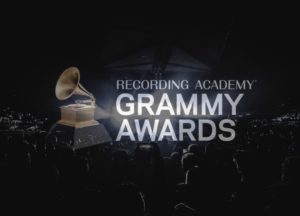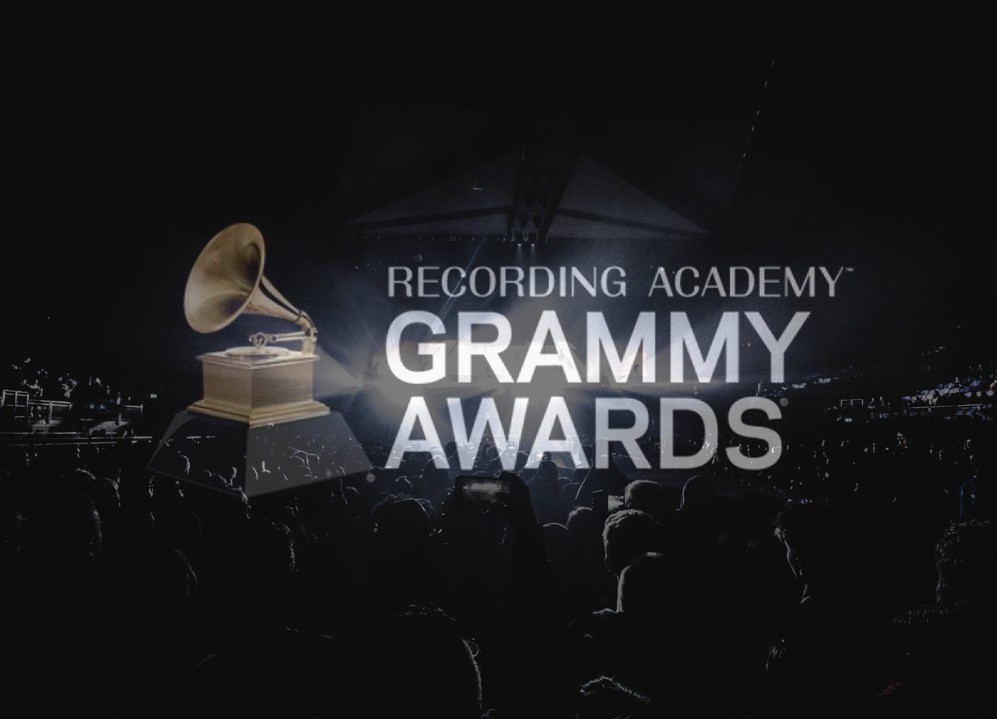 Ecco la lista completa dei vincitori della serata per categorie:
Album of the year
Golden Hour – Kacey Musgraves
Record of the year
This Is America – Childish Gambino
Song of the year
This Is America – Childish Gambino and Ludwig Goransson
Best rap/sung performance
This Is America – Childish Gambino
Best music video
This Is America – by Childish Gambino
Best rap album
Invasion of Privacy – Cardi B
Best rap song
God's Plan – by Drake
Best new artist
Dua Lipa
Best country album
Golden Hour – Kacey Musgraves
Best pop duo/group performance
Shallow – Lady Gaga and Bradley Cooper
Best pop vocal album
Sweetener – Ariana Grande
Best pop solo performance
Joanne (Where Do You Think You're Goin'?) – Lady Gaga
Best R&B album:
H.E.R. – H.E.R.
Best R&B song:
Boo'd Up – Ella Mai, DJ Mustard, Larrance Dopson and Joelle James
Best R&B performance:
Best Part – H.E.R. featuring Daniel Caesar
Producer of the year, non-classical:
Pharrell Williams
Best rap performance: A Pari merito
King's Dead – Kendrick Lamar, Jay Rock, Future and James Blake;
Bubblin – Anderson.Paak
Best urban contemporary album:
Everything Is Love – The Carters
Best traditional pop vocal album:
My Way – Willie Nelson
Best rock song:
Masseduction – St. Vincent
Best rock album:
From the Fires – Greta Van Fleet
Best rock performance:
When Bad Does Good – Chris Cornell
Best dance recording:
Electricity – Silk City and Dua Lipa featuring Diplo and Mark Ronson
Best country song:
Space Cowboy – Kacey Musgraves (Luke Laird, Shane McAnally and Kacey Musgraves)
Best reggae album:
44/876 – Sting & Shaggy
Best country solo performance:
Butterflies – Kacey Musgraves
Best duo/group country performance:
Tequila – Dan + Shay's
Best jazz vocal album:
The Window – Cecile McLorin Salvant
Best alternative music album:
Colours – Beck
Best comedy album:
Equanimity & the Bird Revelation – Dave Chappelle
Best Latin pop album:
Sincera – Claudia Brant
Best spoken word album:
Faith – A Journey for All – Jimmy Carter
Best folk album:
All Ashore – Punch Brothers
Best contemporary Christian music album:
Look Up Child – Lauren Daigle
Best musical theatre album:
The Band's Visit
Best American roots song:
The Joke – Brandi Carlile's
Best American roots performance:
The Joke – Brandi Carlile
Best Americana album:
By the Way, I Forgive You – Brandi Carlile
Best gospel album:
Hiding Place – Tori Kelly
Best contemporary Christian music performance/song:
You Say – Lauren Daigle
Best world music album:
Freedom – Soweto Gospel Choir
Best compilation soundtrack for visual media:
The Greatest Showman
Best score soundtrack for visual media:
Black Panther
Best song written for visual media:
Shallow dal film "A Star Is Born"
Best traditional blues album:
The Blues Is Alive and Well – Buddy Guy's
Best music film:
Quincy – Quincy Jones
Best boxed or special limited edition package:
Squeeze Box: The Complete Works of 'Weird Al' Yankovic
Per maggiori informazioni visitare il sito: www.grammy.com
Maria Elisa Altese