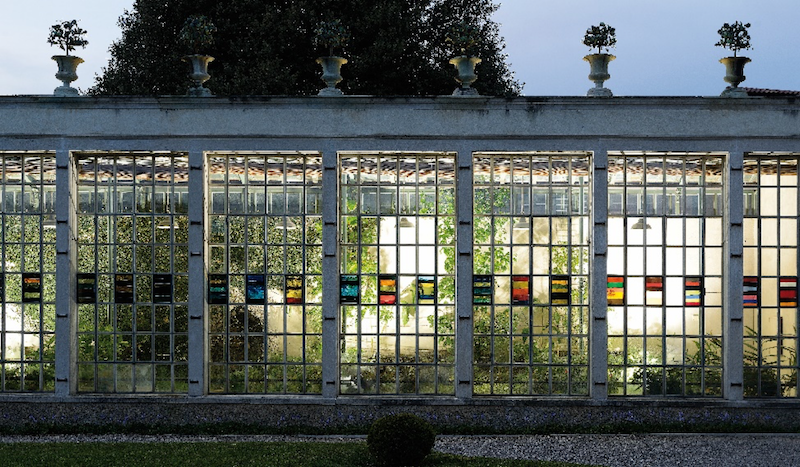 Sono in esposizione a Villa Panza a Varese fino al 6 gennaio 2020, ottanta opere di Sean Scully, artista statunitense di origini irlandesi. Curata da Anna Bernardini, Direttrice di Villa e Collezione Panza, la mostra presenta quadri, fotografie, video e sculture che l'artista ha realizzato tra il 1970 e il 2019.
Il percorso segue un ordine cronologico-tematico: le prime quattro sale sono dedicate alle opere degli anni Settanta. La prima stanza della mostra, Why stripes?, al primo piano della villa, presenta le opere Diagonal Inset e Inset #2, entrambe del 1973. Nella seconda stanza, Supergrid è esposta Backcloth (1970), l'opera con cui Scully si diplomò alla New Castle University. Nel fitto reticolo di linee colorate intrecciate si fondono idealmente l'influenza della Op Art e il ricordo di stoffe e tappeti che Scully vide in Marocco. Conclude la serie degli anni Settanta, la sala Black paintings con opere quali Fort #1 (1978), Upright Horizontals Red Black (1979) e Change 1 (1975).
Proseguendo nel percorso della mostra il visitatore incontra le opere degli anni Ottanta cui è dedicata la stanza Backs and Fronts con il dipinto omonimo. Segue la sala Diptychs and Triptychs con la serie Any questions?, iniziata negli anni Ottanta e conclusa nei primi anni Duemila. La settima sala, Passenger, presenta invece dipinti che risalgono alla fine degli anni Novanta e agli inizi del Duemila in cui sono "ritagliate" una serie di finestre, aperture "immaginarie" delle opere verso il mondo esterno.
L'allestimento della stanza successiva è dedicato a due fotografie: Stone Shack End (1994) e Santo Domingo for Nené (2000).
Il video Art comes from need (2001), nella stanza successiva permette al visitatore di comprendere meglio come nascono le opere di Scully. Attraverso la "viva voce" dell'artista veniamo infatti a conoscenza del ruolo svolto dalle emozioni nel processo creativo; assistiamo inoltre visivamente alle sue pennellate vigorose mentre le realizza.
A seguire nel percorso, la sala Doric con il pastello omonimo su carta: Doric 8.18.18 (2018) e la fotografia Omaha Double Snow Door (1998). La sala dodici Wall of light, collocata in quella che una volta era la rimessa delle carrozze, è dedicata ai dipinti a olio su lino o alluminio. Tra le opere esposte vi si trovano Wall of light Blue Black See (2009) e Happy days (2015-2016), unico dipinto che include anche una scritta: «happy days» che è poi anche il titolo dell'opera.
La sala successiva, Madonna, presenta una serie di dipinti, così intitolati, che virano verso il figurativo e nell'intenzione di Scully rappresentano il rapporto madre-figlio. È a mio avviso la sala più interessante: le opere, recentissime (sono del 2019) rappresentano per la prima volta soggetti umani, la moglie e il figlio Oisín.
Un'altra serie di fotografie sono collocate nella sala Photographs in cui sono esposte: Land Sea Sky (1999), tre Untitled (Valencia) (2002), Aran (2005), Untitled São Paulo (2002), Landline (1999). Il percorso espositivo prosegue poi con la serie Landline che comprende dodici opere tra le quali: Landline Red Bridge (2014), Landline Deep Blue (2014), Oisin Sea Green (2016), Landline Oisin Green (2016), Landline Curve (2016), Curve 2 (2014).
Conclude la mostra un altro "fiore all'occhiello": l'installazione site-specific Looking Outward, allestita nella serra del giardino settecentesco. Costituita da ventisette finestre di vetro colorate, copre l'intera parete sud. Realizzata apposta per l'occasione, entrerà a far parte della collezione permanente.
Francesca Rossetti