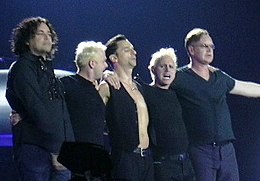 Giovedì 21 novembre alle 20.45 il cinema Otello di Ascona proietterà in contemporanea mondiale il film Depeche Mode-Spirits in the forest, in versione originale con sottotitoli in italiano.
Una sola proiezione per accogliere nello stesso momento in 2400 sale di tutto il mondo i fans del leggendario gruppo inglese,  capitanato da Dave Gahan.
A cavallo tra il 2017 e il 2018 i Depeche Mode hanno intrapreso il loro "Global Spirit Tour" in giro per il mondo; questo film cattura l'energia e lo spettacolo dell'esibizione della band. Il primo docu-film della Band Depeche Mode "Spirits in the forest" in esclusiva al cinema solo il 21 novembre 2019. Il potere della musica e le immagini del tour da record: «sono profondamente orgoglioso di condividere questo film e la storia potente che racconta» spiega Dave Gahan dei Depeche Mode. «È incredibile vedere i modi molto reali in cui la musica ha influenzato la vita dei nostri fan».
Le prevendite per questo evento sono aperte presso le casse del cinema Otello e alla pagina del sito: https://otelloascona.ch/film/837
Una proiezione in collaborazione con Pathé Life e Trafalgar.