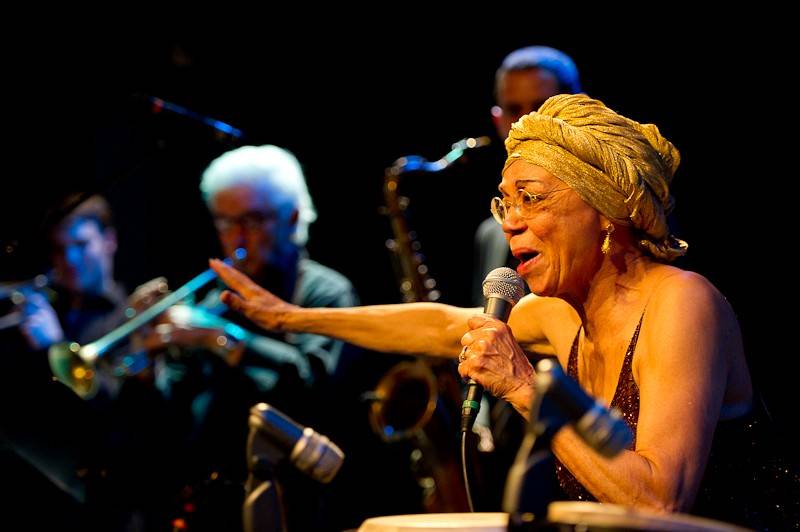 È Othella Dallas la vincitrice dello Swiss Jazz Award 2019, il premio del jazz svizzero giunto alla 13esima edizione. La 93enne cantante americana residente da molti anni in Svizzera viene onorata per la sua straordinaria carriera artistica. La cerimonia di consegna del premio si terrà domenica 23 giugno 2019 nel quadro del festival JazzAscona.
Nata a Memphis nel lontano 1925, Othella Dallas prima che cantante è stata una ballerina di successo, attiva a New York presso la scuola e la compagnia della celebre coreografa, attrice e ballerina afroamericana Catherine Dunham. Come cantante ha debuttato nei primi anni 50 nei jazz club di Parigi e si è rapidamente affermata condividendo il palco con celebrità del calibro di Duke Ellington, Sammy Davis jr, Nat King Cole, Quincy Jones, Sonny Stitt e King Kurtis, per elencarne solo alcuni.
Dagli anni 60 Othella Dallas risiede in Svizzera. Qui sceglie uno stile di vita più tranquillo, dando la priorità alla famiglia, ma tiene comunque regolari concerti e tournée che la portano in diversi paesi europei; nel 1975 fonda a Basilea la Othella Dallas Dance School.
Nel 2008 Othella Dallas realizza un fragoroso ritorno sulle scene con l'album I Live The Life I Love, che la fa conoscere a livello nazionale e la consacra definitivamente Grand Old Lady del Jazz, del Blues e del Funk. Ospite delle scene più prestigiose del paese, a 93 anni Othella Dallas continua a tenere regolari concerti, dispiegando un'energia, un'intensità, una presenza scenica che ovunque suscitano ammirazione ed entusiasmo.
Swiss Jazz Award
Istituito nel 2007 da Radio Swiss Jazz e da JazzAscona, lo Swiss Jazz Award mira fin dalle sue origini a promuovere la musica jazz svizzera. Pensato inizialmente come premio del pubblico, nel 2017 e 2018 è stato attribuito da una giuria di esperti a un musicista svizzero particolarmente meritevole. Quest'anno il premio è organizzato da JazzAscona in collaborazione con lo sponsor Percento culturale Migros Ticino e Radio Swiss Jazz in qualità di media partner.
Tra i vincitori delle precedenti edizioni si ricordano:
Franco Ambrosetti (2018), Bruno Spoerri (2017), Patrick Bianco's Cannonsoul (2016), Raphael Jost and lots of horns (2015), Nicole Herzog & Stewy von Wattenwyl (2014), Chris Conz Trio (2013), Christina Jaccard & Dave Ruosch (2012), Alexia Gardner (2011) e Dani Felber Big Band (2010). Un premio speciale alla carriera è stato finora assegnato a Hazy Osterwald (2009) e a Pepe Lienhard (2006).